Janitorial Services for Fitness Centres and Gyms
Fitness Center & Gym Cleaning Services
If you run a fitness center, cleanliness and customer safety should be your major concern. When it comes to Fitness Center and Gym Cleaning Services, Star Team Cleaning guarantees spotless results. Our team members are familiar with the gym and fitness setting, and have in-depth knowledge of how to handle professional gym equipment.
Scheduled Gym Cleaning Service
Having a fitness business means having clients coming in all the time. We understand that.
Star Team Cleaning designs a cleaning schedule that caters your needs and expectations of your facility.
We service many gyms, finesses and recreational centres in Toronto and GTA, so we know the demand and expectations of the cleaning service. Choose from our daily, weekly or bi-weekly fitness center & gym cleaning services packages.
Gym Cleaning Services
The first impression is very important for both – you clients and workers. It is crucial and beneficial to maintain your workout facility clean, smell fresh, attractive and safe.
Star Team Cleaning provide effective and affordable Fitness Center and Gym Cleaning services for:
Small-Large Gym
Fitness Center
Golf Course
Sport Centre
Dances Studios
Yoga Studios
CrossFit Boxes and Martial Arts Studios
Gym Cleaning Checklist
When you hire Star Team Cleaning to clean your gym or fitness center, you can be assured that you will get the most detailed cleaning services.
Our Fitness Center and Gym Cleaning Services include:
Green Cleaning Services
General cleaning- checks-in, Lobbies
Meeting Room Cleaning
Kitchen Cleaning
Locker Room Cleaning-Wipe Lockers In/OutFitness and Gym Cleaning Services
Clean and sanitation of showers walls and floors to eliminate bacteria and viruses as well to prevent molds.
All walls cleaning
Squash Courts Walls Cleaning
Clean Lunchroom/Cafeteria Cleaning
Special Activity Rooms, Workout Rooms
Dust All Horizontal Surfaces-Windowsill, Baseboard, kickplates
Remove Cobwebs
Disinfect all High Touch Surfaces-Door Handles, Light Switches etc.
Wiping Cabinets, countertops and appliances.
Yoga Room
Squash Courts
Gym/ Multi Purpose Rooms
Pool Areas/Whirlpool Areas
Glass Cleaning/Mirrors Cleaning
Disinfecting all workout equipment and free weights
Maintenance all kinds of resilient and non-resilient floorings.
Carpet Cleaning/Extraction Cleaning
Clean Tiles and Grouts
High DustingFitness and Gym Centre washrooms cleaning
Special event clean-up
Stripping and Waxing, Buffing
Detailed Elevator cleaning
Stainless Steel Cleaning
Garbage Removal
Detailed Cleaning Services for Fitness Center and Gym with the Health in Mind
At Star Team Cleaning, our professionally trained crews offer superior gym and fitness center cleaning services that clean, healthier and make lasting impression on your staff, members and guests. Cleanliness is the key to success for any gym or fitness studio due to equipment, gym facilities and all high touch areas being used by many people, so it's very easy for your facility to get dirty very fast. It can create very serious health concerns such as spreading of germ, bacteria, viruses, flues and fungus.
When Start Team Cleaning gets to the job, we make sure that all surfaces and spaces are thoroughly disinfected by our specially trained crew for gym and fitness cleaning. We constantly check our work and cleaning tasks to make sure we exceed your expectations, make changes if necessary, to ensure your complete satisfaction. We are always looking for different ways to clean better and add value to your facility.
Locker Rooms and Gym Showers Cleaning
Locker rooms, due to very high usage, need to be cleaned professionally in order to keep safe, healthy and hygienic. Floor also needs to be disinfected more often to make sure dirt and germ free for the members.
Showers, this is the most important section in the entire gym and fitness centre. As the business owner you need to make sure this area is cleaned and disinfected properly daily.
We use foam cleaning systems to disinfect all showers walls and floors to make sure we eliminate all bacteria, viruses and dirt. Our trained cleaning team will apply special solutions to walls and floor with the special attachments and follow the foam cleaning procedures to complete cleaning and disinfecting.
Reliable and Affordable Fitness Center and Gym Cleaning Services
We know the fitness center and gym cleaning, from the check-in, locker room, showers to activity room. In other words, we focus on all of the critical areas of the gym and fitness facility to make sure there are no germs, bacteria, molds, water marks, as well as all grout anywhere.
We offer complete gym and fitness cleaning services. Our Trained Cleaners, Knowing WHAT, WHEN and How Cleaning Task Need to be Performed, ensure all facility high-touch areas are thoroughly disinfected to prevent the spread of germ and viruses. We will adjust our cleaning schedule to fit your unique facility to ensure your facility is safe and healthy for the members.
Best Fitness Center and Gym Cleaning Services in Toronto
When it comes to the Fitness Center and Gym Cleaning, it has unique cleaning needs. Therefore, we specifically train our cleaning team for fitness center and gym cleaning services specifications. Since we have been serving many other Fitness centers and Gyms all across Toronot and GTA,we know gyms & fitness centres cleaning in and out.
We disinfect all spaces and surfaces to eliminate all bacteria, germs, viruses. Best of all we use eco-friendly products as well no chemical cleaning such as OZONE cleaning. Our cleaners are trained to identify high-risk areas for bacteria and germs and eliminate in high-touch zones.
We put extra focus on high-traffic areas such as change rooms, bathrooms and showers.Our professional cleaners also provide day-to-day cleaning of your gym's floors, including areas with tiles, rubbers, concretes, stones, safety vinyl, marmoleum, linoleum and carpeting.
Gym and Fitness Cleaning Inspection
To maintain our high-quality cleaning services for Fitness Centers and Gyms, we regularly perform on-site inspections. Our team consistently monitors our clients' premises with unscheduled inspections to measure, track, and report real levels of cleanliness. We use a Mobile App to capture and upload inspection data that is unique to your cleaning schedule. The system alerts our team, who resolve issues quickly and timely, and adds follow-up to prevent a recurrence.
Our team creates an inspection report for areas requiring improvement, which we review with the certified onsite supervisor/manager. We rectify deficiencies immediately, and all inspection reports are recorded for future tracking in our software system to analyze performance.
Our management receives inspection reports indicating sites visited, customer satisfaction, issues needing attention, and the training needed to rectify them. The system assigns dates to re-inspect the site to ensure the cleaning team has achieved permanent improvement for the issues.
Green and Eco-Friendly Fitness Center and Gym Cleaning Equipment
The objective of our cleaning process is not only to clean well, but also clean for improved health. Star Team Cleaning uses hospital grade disinfectants for your employees.
We also provide green janitorial services to make the workplace environmentally friendly by limiting chemical waste, using and promoting health and eco-friendly products and practices. We achieve these green cleaning by implementing some of equipment and products.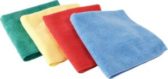 Micro-Fiber Technology
Star Team Cleaning has replaced conventional cleaning cloths with an antimicrobial impregnated micro-fiber system which cleans greener and dry while removing more dust contaminants. Star Team Cleaning uses a four-color coded Microfiber system, which virtually eliminates cross-contamination. Using only the red microfiber cloths in restrooms for disinfecting reduces the spread of germs and harmful bacteria to other areas of your property.
Here is an overview of benefits using Microfiber Technology:
Time-Effective and Efficient
Environmentally Friendly and Reduces Chemical Usage
Commercial Office Cleaning-Microfiber Cloths
Increases Cleanliness and Hygiene
Controls infection
Prevents cross-contamination
Differentiate for specific tasks or job
Eliminates cross-contamination
Backpack Vacuum Technology
Our Backpack vacuums have a four-level filtration for exceptionally clean and healthy indoor air quality. Benefits of those powerful vacuums are obvious:
Capture up to 99% of dust mites, pollen, viruses, bacteria and chemical residue
Perfect for Commercial and Industrial Facilities cleaning
Leaves less dust in your environment so there is less dust to collect on desk and furniture
Help reduce the risk of respiratory infection
Create a healthier environment for your facility
HEPA filtration system captures fines particles such as dust, dust mites and allergens to improve air quality and to ensure a healthier cleaning experience for staff and customers
Environmentally Safe Chemicals
Star Team Cleaning is an alliance partner of Green Solutions, a colorless, odorless and environmentally conscious line of cleaning chemicals. We chose to work with these products because:
Safe for your employees
Highly-effective cleaning solutions
Commercial Cleaning-eco-Friendly.
Hospital Grade Disinfectants
Hire Fully Insured and Bonded Cleaning Company
Star Team Cleaning team members are insured and bonded. They are trained in the best practices for your safety and are insured against employee accidents, crime and liability. Background check performed before cleaning crews start working at your facility. Maintained $5M commercial liability insurance, $10,000 janitorial Bond and WSIB compliant. All our cleaning crew members are screened and carefully selected.
We are committed to ensuring that all of our customers are completely satisfied with our Fitness Center and Gym Cleaning Services.
Start Team Cleaning offers:
Professionally Trained Staff
Understanding and complying with WHMIS standard
All our crew members trained and Background Checked
All employees wear professional Star Team Cleaning Uniforms and have ID badges
State-of-the-Art cleaning Products and Equipment
100% Satisfaction Guarantee Cleaning
Additionally:
Detailed Cleaning Schedule: Daily, Weekly and Monthly
Regular Physical on-site Mobile inspection and Quality Control
All tasks are completed properly, on time and according to our customers' specifications
We pick up on the minor details that most cleaners overlook, in order to provide a truly outstanding cleaning service to our valued customers
There is no rush on our job-we always take the time to do the job right at the first time, treating your facility as though it is our own
We're so confident in our Fitness Center & Gym Cleaning Services that we offer a 100% Satisfaction Guarantee on all of our work
If you feel unhappy with our service, we guarantee to come back within 24 hours to resolve the issue
Contact us today to learn more about our fitness center and gym cleaning services, and get a Free, no obligation Fitness Center and Gym Cleaning Services quote for your facility.
Why Choose Start Team Cleaning
What makes us different?
Our Team is Our Gold! All our cleaning team members are screened, carefully selected, and trained in the latest cleaning and safety techniques.
You can spot our teammates by a professional uniform with a photo ID. WSIB compliant.
Locally Owned and Operated.
Efficient cleaning technology.
Thorough cleaning for a healthier work environment.
Expert in all kinds of buildings.
Remarkable attention to detail.
Thorough and reliable cleaning every visit.
If you are looking for a reputable cleaning company and a responsible team, give us a call.
Let us figure out together the best schedule and package for your business.