Healthcare Cleaning Services
Medical Office Cleaning Services
Dental Offices, Clinics, Doctors Offices, Long-Term Care Homes, Hospices – all these medical facilities require constant cleaning, that is not only thorough, but also complies with medical cleaning protocols like OHA, IPAC, and CMC.
Healthcare buildings require an extensive cleaning and sanitation of all surfaces in order to prevent the spread of viruses, germs and infections and provide a safe, healthy environment for patients, guests and medical professionals in the industry.
We offer Medical Office Building Cleaning Services to Following Healthcare Facilities:

Clinics And Medical Offices
Doctor Offices
Dental Offices
Midwifery Offices
Hospitals
Chiropractors Offices
Physiotherapy Offices
Massage Therapy Offices
Specialized Clinics
Long-term Care Building
Hospices Homes
Nursing Homes
Mental Health And Addiction Treatment Centers
Imaging And Radiology Centers
Hire Medical Office and Doctor's Office Cleaning Company Toronto
Star Team Cleaning is devoted to the high-level of hygiene and cleaning standards. We have over 18 years of experience in the cleaning industry and a great deal of local healthcare buildings and medical offices as our loyal customers. Our team uses the latest technology and hospital-grade disinfectant systems that effectively kill all bacteria, viruses, germs that can be harmful for people in the healthcare environment. We will work with you to create a cleaning plan to disinfect all high touch areas, common areas and eliminate harmful viruses.
Whether you own a small doctor office, dental office or a large medical building, we provide highly comprehensive, cost-effective, reliable and professional medical office cleaning services in Toronto and GTA. We work with our clients to develop a custom cleaning plan and are available every day of the week and weekend, 24/7 to get the job done.
Our Medical Office Cleaning Services Keep Your Healthcare Facility Cleaned And Sanitized!
Our number one priority is to keep your medical facility cleaned and sanitized to the highest levels of standards. Of course, we can not emphasize enough how important it is to keep your medical office spaces cleanliness and hygienic conditions to eliminate all kinds of bacteria and viruses being spread from one patient to another. Therefore, your medical office cleaning service provider must provide consistent and thorough regular cleaning, where all common areas need to be sanitized and disinfected to a greater degree in keeping with IPAC standards in the interest of health concerns.
Our Medical Office Building Cleaning Services include:
Entryways Cleaning
Cleaning Chairs
Patient Waiting Areas Cleaning
Bathroom Cleaning
Examination Room Cleaning
X-ray Room Cleaning/Labs
Meeting Rooms
Staff Room/Lunchroom Cleaning
Disinfecting All Doors/Door Knobs/ Electrical Switches
Disinfecting All Surfaces-common Areas
Sweep And Mop/ Sterilizing Floors
Specialized Periodically Cleaning Services Include:
Floor Stripping and Waxing
Floor Buffing and Burnishing
Carpet Extraction/Steam Cleaning
Walls Cleaning
Windows Cleaning
Affordable and Reliable Medical Office Cleaning Services Health in Mind
There is no secret why we are one of the best medical office cleaning companies in Toronto and the surrounding area.
DISINFECT BETTER: Common areas require more attention. With extra-effort we will take care of cleaning all high touch areas, restroom, kitchen, staff room, patients' rooms, sitting areas, door knobs, handles, taps, paper products dispensers, electrical switches, flushing handles, and more.
STOP CROSS-CONTAMINATION: We use colored microfiber cloths to stop the spread of germs and eliminate cross contamination. This way we can guarantee the highest level of cleanliness for your medical facility. Additionally to that, we use HEPA FILTERS for our backpack vacuum to improve air quality.
CONTINUOUSLY IMPROVEMENT: We train our cleaning team to clean better, effectively and more efficiently. Our team members constantly get updated about new tools, technology and industry's new techniques to make sure we are providing you with the best possible service.
STANDARDS: All our cleaning services are performed according to OHA, IPAC and CMC standards.
Doctor Office Cleaning Services
Due to doctor's office traffic, viruses and bacteria will always be present. Therefore, it's crucial that medical facility cleaning procedures and schedules are thorough and detailed and comply with required codes and protocols.
At Star Team Cleaning, we know that doctor's office cleaning requires attention to details and needs to comply with the specific cleaning procedures. Any doctor office needs a thorough cleaning approach, that will include sanitation of all surfaces and spaces. Besides, it is crucial to perform periodic tasks in order to maintain clean and safe medical offices. Our medical office cleaning services are specifically designed to maintain the highest levels of hygiene and cleanliness for your patients, staff and guests to minimise the risk of any infection or cross-contamination.
At Star Team Cleaning, we specially trained our cleaning team on products, process and procedures to ensure that we control the infection and maintain the highest level of cleanliness for healthcare facilities. Our medical office cleaning services ensure to provide safe, clean and compliant with standards such as Occupational Health and Safety (OHA), Centers for Medicare and Medicaid Services (CMS) and Infection Prevention and Control (IPAC)
Dental Office Cleaning Services
Professional dental office cleaning services are essential to provide a safe environment for patients and visitors in a setting similar to other medical offices. At Star Team Cleaning, we understand the specific cleaning requirements and expectations for dental offices, and we create a customized cleaning program that includes cleaning and thorough disinfection of all surfaces, including high-traffic areas such as doorknobs, phones, chairs, countertops, lab areas, sterilization areas, patients' rooms, and floors.
Unfortunately, not all cleaning companies maintain the high level of standards required for dental office cleaning. If you are struggling to find an experienced dental office cleaning company, we can help solve your cleaning needs for your medical offices.
Star Team Cleaning can design and adapt to any cleaning specifications and schedules. We know and realize that every facility's cleaning schedules vary depending on the type of facility, traffic, hours of operation of your business. We can offer a personalized cleaning schedule to fit your dental office's graphic, so your facility can be presentable for your staff and most importantly for your clients.
Outstanding Doctors, Dentals, HealthCare and Medical Offices Cleaning Services Provider
Security – customers need to have confidence that those who are working on their premises are trustworthy. Each of our team members has been carefully selected & is required to observe strict confidentiality agreements, subject to security clearance checks, and must follow detailed operational procedures. We also maintain $5 million-dollar commercial general liability insurance and a $10,000-dollar janitorial security bond.
Reliability – with the aim of achieving optimum quality and complete customer satisfaction and undertaking to develop, implement and maintain a practical but very effective quality assurance system.
Accountability – Star Team Cleaning gives a lot of importance to training. All of our cleaning team members are fully trained and certified in: disinfecting, green cleaning, carefully screened & selected, and trained in the latest cleaning technologies and safety standards. WHMIS certified cleaners know how to safely handle chemicals and Knowing WHAT, WHEN, and HOW Cleaning Task to Be Performed.
Quality – Quality control is very important to Star Team Cleaning. We constantly perform unscheduled on-site mobile inspections. We measure, track and report the level of cleanliness on the premises to identify possible issues at the early stage and quickly correct them.
Modern Processes
At Star Team Cleaning, we use our Mobile App to capture and upload unique inspection data that is tailored to your specific cleaning schedule. The system promptly alerts our team to any issues, which we resolve quickly and follow up to prevent a recurrence. Our team generates an inspection report that highlights areas needing improvement, and our certified onsite supervisor/manager reviews it. We immediately rectify any deficiencies and record all inspection reports in our software system for future performance analysis.
Our management team at Star Team Cleaning receives inspection reports that indicate the sites we visited, customer satisfaction levels, and issues that require attention or training to rectify. Additionally, our system assigns dates for re-inspection to ensure our cleaning team achieves a permanent improvement for any identified issues.
Green and Eco-Friendly Medical Offices Cleaning Services
Start Team Cleaning provides an option of eco-green medical office cleaning service. Our eco-cleaning program means reduce chemical waste and create germ-free environment using eco-friendly products and practices.
Micro-Fiber technology:
Star Team Cleaning has replaced conventional cleaning cloths with an antimicrobial impregnated micro-fiber system which cleans greener and dry while removing more dust contaminants. Our team uses a four-color coded Microfiber system, which virtually eliminates cross-contamination. Using only the red microfiber cloths in restrooms for disinfecting reduces the spread of germs and harmful bacteria to other areas of your property.
Benefits of Microfiber Technology for Your Facility:
Time-effective And Efficient
Environmentally Friendly And Reduces Chemical Usage
Preserves Surfaces
Increases Cleanliness And Hygiene
Controls Infection
Prevents Cross-contamination
Differentiate For Specific Tasks Or Job
Identify Between Departments
Backpack Vacuum Technology:
Our Backpack vacuums have a four-level filtration for exceptionally clean and healthy indoor air quality. These powerful vacuums: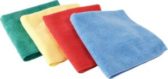 Capture up to 99% of dust mites, pollen, viruses, bacteria and chemical residue
Leaves less dust in your environment so there is less dust to collect on desk and furniture
Help reduce the risk of respiratory infection
Create a healthier environment for your facility
HEPA filtration system captures fine particles such as dust, dust mites and allergens to improve air quality and to ensure a healthier cleaning
experience for staff and customers
Environmentally Safe Chemicals
Star Team Cleaning partnered with Green Solutions, a colorless, odorless and environmentally conscious line of cleaning chemicals. We are proud to be working with products that are
Safe for your employees
Highly effective cleaning solutions
Designed to be environmentally friendly
Hospital Grade Disinfectants
Hire Professional Medical Cleaning Company
At Star Team Cleaning, we provide our members with extensive training and ongoing support in state-of-the-art cleaning processes, safety procedures, and detailed cleaning schedules. Our skilled and certified cleaners are knowledgeable about WHAT, WHEN, and HOW to perform cleaning tasks to meet and exceed your expectations. You can trust our thoroughly vetted cleaning crews to keep your facility safe.
We prioritize ongoing training for all team members, ensuring that they stay up-to-date on the latest techniques, cleaning methods, chemicals, technology, and site inspections.
All Star Team Cleaning team members are insured and bonded. They are trained in the best practices for your safety and are insured against employee accidents, crime, and liability. Background check performed before cleaning crews start working at your facility.  Maintained $5M commercial liability insurance, $10,000 janitorial Bond, and WSIB compliant. All our cleaning crew members are screened and carefully selected.
We offer customizable cleaning packages and superior quality services that go above and beyond industry standards. Size does not matter to us-we handle the cleaning job efficiently and effectively for any commercial facility. So if you have a medical facility that needs to be cleaned to the highest standard on the regular basis, give Start Team Cleaning a call.
Why Choose Start Team Cleaning
What makes us different?
Our Team is Our Gold! All our cleaning team members are screened, carefully selected, and trained in the latest cleaning and safety techniques.
You can spot our teammates by a professional uniform with a photo ID. WSIB compliant.
Locally Owned and Operated.
Efficient cleaning technology.
Thorough cleaning for a healthier work environment.
Expert in all kinds of buildings.
Remarkable attention to detail.
Thorough and reliable cleaning every visit.
If you are looking for a reputable cleaning company and a responsible team, give us a call.
Let us figure out together the best schedule and package for your business.
Maintaining high levels of cleanliness and hygiene in medical offices is crucial to meeting patient expectations, especially for those who are already suffering from a medical problem. Patients want to see a clean and germ-free environment, which demonstrates your commitment to their safety and wellbeing.
At Star Team Cleaning, we provide professional medical office cleaning services in North York that prioritize the health and safety of patients, visitors, and healthcare workers. Our team uses state-of-the-art cleaning processes and equipment to effectively eliminate germs and maintain a clean environment.