Daycare & School Cleaning Services
School and Daycare Center Cleaning Services
As a professional School and Daycare Center Cleaning Service provider, we know how important it is to have a safe, clean, healthy, germ-free and attractive school and daycare environment for children, teachers, parents and visitors. When you are operating a school or daycare, you are not just responsible for your students' education, you are also responsible for their safety and wellbeing.
Every parent is extremely selective about where they will send their children these days when given a choice. Whether public school, private, Montessori or daycare they will be deeply concerned about the cleanliness of the facility where their children will spend hours every day.
One of the highest traffics are educational facilities and schools. Therefore, it's not a secret that, every day, educational facilities, schools and daycares can see hundreds of staff and students moving throughout their halls and classrooms, washrooms, making them breathing grounds for bacteria and viruses. If your facility is not properly cleaned, sanitized and maintained to the highest degree of cleanliness, children, visitors and teachers can become ill and germs can spread quickly throughout classes.
Daycare Center and School Cleaning Services
Clean, Sanitize, Disinfect, & Make Your Educational Facility Shine, Fresh, Every School Day!
Daycares in GTA handle all ages of children from zero to pre-school. These ages of babies and kids are at high risk of catching illnesses since their immune system is not that developed to perform against all sorts of different germs, bacteria and viruses. Daycares and Schools facilities are required to meet strict standards of cleanliness, and our team can deliver thorough, effective cleaning using the latest hospital grade products, equipment and technique to ensure you meet all requirements.
Our School Cleaning and Daycare Center Cleaning Services are always conducted by fully-trained Cleaners Knowing WHAT, WHEN and How Cleaning Task Need to Be Performed, who understand how to target germ hot spots in the child care environment, including desktops, tables, toy and play areas, door handles, light switches, washrooms, locker rooms, and floors to prevent the spread of viruses.
Our School and Daycare Center Cleaning Service Includes:
We can design a cleaning schedule based on your special needs and expectations to keep your school and daycare safer, cleaner, healthier for young minds.
Our Cleaning Services Include:
Daily, routine cleaning & sanitation
Entryways Cleaning
Playground cleaning
Library, Office Cleaning
Chalkboard and Whiteboard Cleaning
Laboratories Cleaning
Washrooms & Locker Rooms Cleaning
Garbage Removal
Floor Cleaning
Cafeteria, Lunch Room, Kitchen Cleaning
Detail dusting
Baseboard Cleaning
Table/Desks Cleaning
Toys Cleaning
All high Touch Surfaces Cleaning/Sanitization
Door handles/Light Switches Cleaning
Windows ledges cleaning
High and Low Dusting
Ceiling Vents Cleaning
And much more…
We also offer Special Periodically Services that include
Stripping & WaxingFloor Stripping, Waxing & Burnishing By Star Team Cleaning!
Carpet Cleaning
Walls and Windows Cleaning
Tile & Grout Cleaning/Scrubbing
Fully Shower Disinfecting/Foam Cleaning
Day Porter
Power washing
Buffing and Burnishing
Top Scrubbing
And much more…
Specifically Trained for School and Daycare Center Cleaning Services Experts to Provide a Consistent Cleaning
All crew members are dedicated to provide you with a consistent clean. Our cleaning team receives extensive training and ongoing support in the state-of-the-art cleaning process, safety and very detailed cleaning schedule to provide a consistent cleaning to meet and exceed your expectations. Trained cleaners Knowing WHAT, WHEN and How Cleaning Task Need to be Performed. Your facility is safe in the hands of skilled, certified and thoroughly vetted cleaning crews.
Our on-going Training continues for all of our team members, updates on the latest techniques, cleaning methods, chemicals, technology and site inspection.
100% Guarantee School Cleaning and Daycare Center Cleaning Services
Advanced Training: State-of-the-Art Cleaning Products and Equipment
Exemplary training is a key to Star Team Cleaning's success and the satisfaction of our customers
Detailed Cleaning Schedules: Daily, Weekly and Monthly
Regular Physical Inspections and Quality Control100% Satisfaction Guarantee Cleaning
Operation Manager is available by cell phone after hours and for emergencies
All our crew members trained & Background Checked
All employees wear professional Star Team Cleaning Uniforms and have ID badges
Understand and comply with WHMIS standard
You will be getting 100% Guaranteed Quality
If you feel your facilities have not been cleaned properly on any visit, Complimentary cleaning will be scheduled
Log-book for daily communications between you and your cleaning team
Professional School and Daycare Center Cleaning Services
Your school and daycare center cleaning services are part of the process to protect students and children from vital bacteria, viruses and germs. Regardless of the size of your school and daycare, we offer professionally designed school and daycare center cleaning services that will help you keep your educational facility and daycare clean and healthy for your visitors.
We are very familiar with school and daycare center cleaning as we have been providing cleaning services to many locals' school and daycare centers across GTA and Surrounding areas.
Best School and Daycare Center Cleaning Services in Greater Toronto Area
We set the standards when it comes to quality professional School and Daycare center cleaning services in Toronto. Your cleaning service provider should treat your facility as if it was their own. We consider ourselves as part of your team, so you can expect the highest quality cleaning services possible every time we clean.
From Entrance to Classrooms to bathrooms and anything in between we are committed to leaving your Educational facility in mint condition. Our number one goal is to provide a clean and safe environment for your students, teachers and visitors. By implementing professional school and daycare center cleaning services, we can create a cleaner, attractive and more welcoming environment for your employees and guests.
Fully Insured and Bonded School and Daycare Center Cleaning Services
Star Team Cleaning team members are insured and bonded. They are trained in the best practices for your safety and are insured against employee accidents, crime and liability. Background check performed before cleaning crews start working at your facility. Maintained $5M commercial liability insurance , $10,000 janitorial Bond and WSIB compliant. All our cleaning crew members are screened and carefully selected.
High School and Elementary Cleaning Services for Health in Mind
Public and private School receive very high traffic from entrance to hallways to classrooms to washrooms. It's imperative to make sure all areas are cleaned and disinfected to a greater degree in keeping with IPAC standards in the interest of health concerns.
We, Star Team Cleaning, can design, implement and maintain any size of school most effective and affordable cleaning solution for your facility. Our experienced cleaner knows how to handle special details cleaning for floors, tables, play areas, activities rooms, classrooms, locker rooms, washrooms and all high touch areas to prevent the spread of illness.
A clean School and Daycare not only ensures a healthy and safe learning environment, but also helps minimize student and staff absence due to sickness and low morale. No matter what your cleaning requirements, our fully insured and bonded cleaning teams use innovative, up-to-date system cleaning techniques and sophisticated technologies to help create a spotless and professional appearance for your entire educational and daycare facility.
Students in a clean environment are naturally likely to be happier than those in a messy environment, and students who are happy in their reading and math are likely to score more than those who dislike the environment.
University and College Cleaning Services
When it comes to university and college cleaning services, it becomes a little bit challenging due to the larger size of the building, more traffic and shorter cleaning periods and different cleaning needs. Most of these facilities run from early morning to 10 pm at night, so cleaning needs to be done at night and must be finished before school opens in the morning. Good news is that keeping your campus clean is easy if you choose professional university and college cleaning services from Star Team Cleaning.
As we always do, we will work with you to create a cleaning schedule to keep all classrooms, cafeterias, gyms, common areas, lecture halls are kept cleaned and attractive for students, staff and visitors. Important thing is to do the job right at the first time. Of course, we constantly monitor the facility cleanliness to tackle and rectify the issue in a timely manner and re-train the team if necessary and make adjustments along the way to adjust to the changes of traffics and weather related issues. You will enjoy the extraordinary level of cleanliness for your university and college.
Green and Eco-Friendly School and Daycare Center Cleaning Services with Health In Mind
The objective of our cleaning process is not only to clean well, but also clean for improved health. Star Team Cleaning uses hospital grade disinfectants for your employees.
We provide green School and Daycare Center Cleaning Services to make the workplace environmentally friendly by limiting chemical waste, using and promoting health and eco-friendly products and practices.
Star Team Cleaning partnered with Green Solutions, a colorless, odorless and environmentally conscious line of cleaning chemicals. Less chemicals means safe for the environment and your employees, high-effective cleaning solutions, designed for eco-friendly commercial cleaning.
We achieve these green cleaning by implementing some equipment and products.
Micro-Fiber Technology: To Clean Better
Star Team Cleaning has replaced conventional cleaning cloths with an antimicrobial impregnated micro-fiber system which cleans greener and dry while removing more dust contaminants. Star Team Cleaning uses a four-color coded Microfiber system, which virtually eliminates cross-contamination. Using only the red microfiber cloths in restrooms for disinfecting reduces the spread of germs and harmful bacteria to other areas of your property.
Benefits of Microfiber Technology for Your Facility:
Environmentally Friendly And Reduces Chemical Usage
Preserves Surfaces
Increases Cleanliness And Hygiene
Controls Infection
Prevents Cross-contamination
Differentiate For Specific Tasks Or Job
Identify Between Departments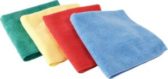 Backpack Vacuum Technology: Quality Air
Our Backpack vacuums have a four-level filtration for exceptionally clean and healthy indoor air quality.
Here are some benefits of these powerful vacuums:
Capture up to 99% of dust mites, pollen, viruses, bacteria and chemical residue
Designed for Commercial Office Cleaning
Leaves less dust in your environment so there is less dust to collect on desk and furniture
Help reduce the risk of respiratory infection
Create a healthier environment for your facility
HEPA filtration system captures fines particles such as dust, dust mites and allergens to improve air quality and to ensure a healthier cleaning experience for staff and customers
100% Consistent School and Daycare Center Cleaning Services
We believe that the beauty is in the detail, which means that our work is not done until your school or daycare facility has a sparkle that will be presentable to your students, staff and guests. Our reputation depends on yours; if your first impression is not saying the right things then we are not doing our job. By hiring Star Team Cleaning for your school and daycare center cleaning services, you can be rest assured that your educational facility is in reliable and trustworthy hands.
Security – customers need to have confidence that those who are working in their premises are trustworthy. Each of the team members have been carefully selected & are required to observe strict confidentiality agreements and subject to security clearance checks and must follow detailed operational procedures. We also maintain $5 million-dollar commercial general liability insurance and $10,000-dollar janitorial security bond.
Reliability – with the aim of achieving optimum quality and complete customer satisfaction and undertaking to develop, implement and maintain a practical but very effective quality assurance system.
Accountability – Star Team Cleaning gives a lot of importance of training. All of our cleaning team members are fully trained and certified in: disinfecting, green cleaning, carefully screened & selected and trained in the latest cleaning technologies and safety standards. WHMIS certified cleaners know how to safely handle chemicals and Knowing WHAT, WHEN and HOW Cleaning Task to Be Performed.
Quality – Quality control is very important to Star Team Cleaning. We constantly monitor the service of our customers' premises with unscheduled on-site mobile inspection to measure, track & report of cleanliness to identify the issue early and allow us to quick correction.
Regular site inspection to keep and maintain the Quality of our School and Daycare Center Cleaning Services. We use Mobile App to capture and upload inspection data that is unique to your cleaning schedule. The system alerts our team who resolve the issues quickly and timely and adds follow-up to prevent recurrence. An inspection report is created for areas requiring improvement. This report is reviewed with the certified onsite supervisor/manager. Deficiencies are rectified immediately. All these inspection reports are recorded for future tracking in our software system to analyze the performance.
Star Team Cleaning management receives inspection reports indicating sites visited, customer satisfaction, issues needed to pay attention and the training needed to rectify them. Further, the system assigns dates to re-inspect the site to ensure the cleaning team has achieved a permanent improvement for the issues.
Leave School and Daycare Center to Cleaning Professional
School and Daycare Center Cleaning Services are the solution to ensure your School and Daycare Centre maintains a high level of cleanliness and minimizes the impact of harmful bacteria and viruses. Not only will school and daycare cleaning services prevent the spread of illness – they will also help you create a great first impression on prospective students and their parents. The cleanliness of your facility can be the first impression that makes or breaks your potential customers' decision to bring their child to your school, daycare or Montessori schools.
With the highly skilled staff and state of the art cleaning techniques, you are not going to regret making the decision of choosing us. We consistently strive to provide the finest cleaning services for schools and daycare centers in GTA and surrounding areas. Our primary focus on the high-risk areas and an absolutely thorough process of cleaning with the use of eco-friendly solutions to ensure that the root problem of bacteria and germs is being taken care of without doing any harm to the occupants' health. Rest assured, if you are looking for the finest cleaning services at an incredibly affordable price, we are going to be your best bet.
Star Team Cleaning can handle any cleaning challenge! Contact us today, to discover how our School and Daycare Center Cleaning services can help you maintain a cleaner, germ-free, healthier facility for your students, staff and visitors in the classroom, hallways and in the washrooms.
Why Choose Start Team Cleaning
Our Team is Our Gold! All our cleaning team members are screened, carefully selected, and trained in the latest cleaning and safety techniques.
You can spot our teammates by a professional uniform with a photo ID. WSIB compliant.
Locally Owned and Operated.
Efficient cleaning technology.
Thorough cleaning for a healthier work environment.
Expert in all kinds of buildings.
Remarkable attention to detail.
Thorough and reliable cleaning every visit.
If you are looking for a reputable cleaning company and a responsible team, give us a call.
Let us figure out together the best schedule and package for your business.
When it comes to keeping your daycare clean and free of germs and viruses, there are countless cleaning tasks that need to be done. The right way to keep track of them is to organize them. Create a list where you categorize cleaning tasks and think about which tasks need to be done on a regular basis. A concrete cleaning schedule will not only help you stay on top of things, but it will also help you divide up the work and prioritize the important things, especially in the daycare center.
The Star Team guarantees you the best daycare cleaning services in North York. Trust us and let us do the work while you focus on your daily life.