Restaurant Cleaning
Commercial Kitchen & Restaurant Cleaning Services

Do you own a restaurant or run a commercial kitchen? Are you looking for professional restaurant cleaning services? Well, look no further! Start Team Cleaning is a team of professional restaurant cleaners that will exceed your expectations.
If you own a restaurant you know that its cleanliness and food safety is the key to quality, first impressions, the flow of returning customers, and of course, the well-being of your staff. That is why it is so important to invest in a professionally renowned cleaning company. Our Commercial Kitchen & Restaurant Cleaning services top-notch. We will provide you with a clean and healthier restaurant that meets all required standards such as (OHA, IPAC, CMC).
Star Team Cleaning offers Commercial Kitchen & restaurant cleaning services across Toronto, Scarborough, Vaughan, Richmond Hill, Ajax, Maple, Mississauga, Woodbridge, Stouffville, Milton, Markham, Oshawa, Concord, Thornhill, North York, Oakville, Aurora, Brampton, Newmarket, Etobicoke, Pickering, GTA, Surrounding Areas and more…
We Provide Cleaning Services To Following Types Of Hospitality Business:
Restaurants-any sizes
Commercial kitchen cleaning
Franchise fast-food chains
Coffee shops, cafes, bakeries
Banquet halls
Food plants
Supermarket
Restaurant Cleaning Checklist
When the Start Team Cleaning team gets to work with your commercial kitchen, we make sure that all areas in the facility are spotless. Here is what we do:
General cleaning – detailed cleaning of all areas of the restaurant
Cleaning the entryway and lobby/waiting areas.
Dining Room cleaning & Disinfecting
Floor sweeping & mopping
Vacuum all carpeted area and rugs
Cleaning & sanitizing kitchen countertops/food prep areas.
Floor stripping & waxing
Carpet cleaning
Cleaning & sanitization washrooms
Power washing kitchen floors
Cleaning all tables and chairs
High dusting vents, blinds, ceiling corners, wall hangings etc.
Windows in/out cleaning
Remove all cobwebs
And more…
Best Commercial Kitchen & Restaurant Cleaning Services in Toronto & GTA
A clean restaurant from the entrance to the dining area to the washroom and most importantly to the kitchen is the key component to restaurant business success. Fresh and welcoming environment means higher chances of making a great first impression on new clients and ensuring the return of your loyal customers.
Our skilled & trained cleaning team is ready to take on your Commercial Kitchen & restaurant cleaning to the next level. We will work with you to create a restaurant cleaning services schedule to make sure every corner of your restaurant is cleaned properly without interrupting your daily business routine. Hire a professional Commercial Kitchen & restaurant cleaning services to help you solve your cleaning issues.
Commercial Kitchen Cleaning Services
Don't take a chance when it comes to your kitchen cleaning leave it to the expert. Commercial kitchen cleaning has unique cleaning needs. The cleanliness of food preparation areas is critical to the success of any restaurant owners in the food industry in Toronto and the GTA.
Star Team Cleaning can provide deep cleaning or ongoing commercial kitchen cleaning services. We have been providing restaurant cleaning services to local restaurants for almost 2 decades, and we can guarantee the quality of our work. We only use safe-hospital-grade cleaning products and techniques to make sure your kitchen is clean, safe, sanitized, and ready for the next day to service your customer in a clean environment.
We will work with you to develop a commercial kitchen & restaurant cleaning services schedule to ensure that it will meet your unique needs and fit in your budget. We will design a schedule according to your expectations and needs at the frequency you require. Feel free to choose from daily, weekly, bi-weekly, monthly or personally customized packages.
Keep Your Bathrooms and Toilets Clean & Hygienic
Oftentimes, the cleanliness of the restaurant is not judged by its kitchen, but by the cleanliness of its bathrooms. If restrooms are not cleaned up to standard, a customer will automatically think that the rest of the restaurant is also filthy and dirty.
Trust Start Team Cleaning expertise to make sure that your restroom areas are spotless.
We will clean all walls, partitions, sinks, floors, splashes/stains, and more. Our signature bathroom cleaning services will ensure to clean and sanitize from entrance doors to all fixtures/walls/portions, sinks, toilets and floors to have a pristine and shiny bathroom for your diners.
Commercial Kitchen & Restaurant Cleaning Services with the Health in Mind
Our Commercial Kitchen & restaurant cleaning services includes cleaning, disinfecting sanitation and maintaining a high level of hygiene. We ensure to meet all the hygiene standards and requirements set out by the health authorities as well as our quality standards regarding the cleanliness and healthier environment for your diners and staff.
Start Team Cleaning is a stable, skilled & trained cleaning team that will start the cleaning as soon as you step out from the restaurant to give you a consistent clean every single visit. We are experts in the food industry cleaning and know about how important to have a cleaned and sanitized commercial kitchen and dining area to the highest level of cleanliness required by law.
Regular On-site Inspection
Quality is the foundation of our cleaning services so we consistently monitor the servicing of our clients' premises with unscheduled inspections to Measure, Track & Report the Real Level of Cleanliness.
We use a Mobile App to capture and upload inspection data that is unique to your cleaning schedule. The system alerts our team who resolve the issues quickly and timely manner and adding follow-up to prevent a recurrence. An inspection report is created for areas requiring improvement. This report is reviewed with the certified onsite supervisor/manager. Deficiencies are rectified immediately. All these inspection reports are recorded for future tracking in our software system to analyze the performance.
Star Team Cleaning management receives inspection reports indicating sites visited, customer satisfaction, issues needed to pay attention and the training needed to rectify them. Further, the system assigns dates to re-inspect the site to ensure the cleaning team has achieved a permanent improvement for the issues.
Green and Eco-Friendly Restaurant Cleaning Services
We also provide green restaurant cleaning services. It means we are limiting chemical waste, using and promoting health and eco-friendly products and practices. We achieve these green cleaning by implementing some of equipment and products.
Micro-Fiber technology:
Star Team Cleaning has replaced conventional cleaning cloths with an antimicrobial impregnated micro-fiber system which cleans greener and dry while removing more dust contaminants. Star Team Cleaning uses a four-color coded Microfiber system, which virtually eliminates cross-contamination. Using only the red microfiber cloths in restrooms for disinfecting reduces the spread of germs and harmful bacteria to other areas of your property.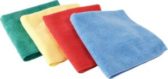 Benefits of Microfiber Technology for Your Facility:
Time-effective And Efficient
Environmentally Friendly And Reduces Chemical Usage
Preserves Surfaces
Increases Cleanliness And Hygiene
Controls Infection
Prevents Cross-contamination
Differentiate For Specific Tasks Or Job
Identify Between Departments
Backpack Vacuum Technology:
Our Backpack vacuums have a four-level filtration for exceptionally clean and healthy indoor air quality. These powerful vacuums:
Capture up to 99% of dust mites, pollen, viruses, bacteria and chemical residue
Leaves less dust in your environment so there is less dust to collect on desk and furniture
Help reduce the risk of respiratory infection
Create a healthier environment for your facility
HEPA filtration system captures fine particles such as dust, dust mites and allergens to improve air quality and to ensure a healthier cleaning
experience for staff and customers
Environmentally Safe Chemicals:
Star Team Cleaning partnered with Green Solutions, a colorless, odorless and environmentally conscious line of cleaning chemicals. We are proud to be working with products that are
Safe for your employees
Highly effective cleaning solutions
Designed to be environmentally friendly
Hospital Grade Disinfectants
Hire Fully Insured Cleaning Company
All our cleaning team members are insured and bonded. They are trained in the best practices for your safety and are insured against employee accidents, crime and liability. Background check performed before cleaning crews start working at your facility.  Maintained $5M commercial liability insurance, $10,000 janitorial Bond and WSIB compliant. All our cleaning crew members are screened and carefully selected.
We offer 100% Satisfaction Guarantee on our restaurant cleaning service
State-of-the-Art cleaning Products and Equipment
Exemplary training is a key to Star Team Cleaning's success and our customers satisfaction
Detailed Cleaning Schedule: Daily, Weekly and Monthly 100% Satisfaction Guarantee Cleaning-star team cleaning
Regular Physical on-site Mobile inspection and Quality Control
Understand and comply with WHMIS standard
Crew members trained and Background Checked
Cleaners wear professional Star Team Cleaning Uniforms and have ID badges
All tasks are completed properly, on time and according to our customers' specifications
We pick up on the minor details that most cleaners overlook, in order to provide a truly outstanding cleaning service to our valued customers
There is no rush on our job-we always take the time to do the job right at the first time, treating your facility as though it is our own
We're so confident in our Commercial Kitchen & Restaurant Cleaning Services that we offer a 100% Satisfaction Guarantee on all of our work
In case you feel unhappy with our service, we guarantee to come back within 24 hours to resolve the issue.If you have any questions left or you want to get a free no-obligation quote, fill out the form below or give us a call.
Why Choose Start Team Cleaning
Our Team is Our Gold! All our cleaning team members are screened, carefully selected, and trained in the latest cleaning and safety techniques.
You can spot our teammates by a professional uniform with a photo ID. WSIB compliant.
Locally Owned and Operated.
Efficient cleaning technology.
Thorough cleaning for a healthier work environment.
Expert in all kinds of buildings.
Remarkable attention to detail.
Thorough and reliable cleaning every visit.
If you are looking for a reputable cleaning company and a responsible team, give us a call.
Let us figure out together the best schedule and package for your business.
Terry Finn
⭐⭐⭐⭐⭐
Had Star Team Cleaning come in to do a thorough deep clean of our 24000 square foot office made up of 4 floors. We haven't had a deep clean done since our company moved into our currently location, which was over 10 years ago. Star Team got rid of the years of grime and dust build up in all the nooks and crannies. The place smells fresh and clean for the first time in years. Our staff and management were very pleased & impressed. We'll definitely hire them again for an annual deep clean.
Restaurant cleaning: From front to back
The first thing guests notice in your restaurant is the cleanliness, not the food. Whether it's their first visit or their tenth, if your restaurant is not clean to standards, the guest will not have a good experience. The quality of your cleaning service plays a huge role in your restaurant's reputation, but this is often ignored. Hiring a restaurant cleaning company is key to a successful business. A clean restaurant is so important to making customers feel comfortable and satisfied. So instead of relying on your employees, you can rely on your restaurant to be as clean as possible when you hire a restaurant cleaning company in Toronto and North York.