Apartment and Condo Cleaning Services
Apartment & Condo Cleaning Services
While individual unit owners are responsible for their own spaces, common areas of these residential buildings must be cleaned regularly by the property management. A very high standard of cleaning service is required to ensure common areas of your building remain clean, safe and presentable for the residents and visitors at all times.
Star Team Cleaning provides exceptional condo building & apartment cleaning services to owners and property managers throughout Toronto and GTA. If you are a landlord, building owner or a property manager, we will be happy to chat with you and discuss your cleaning needs, budget and schedule. Our expert and professional staff can design a janitorial service to fit unique cleaning needs of your building. With our Condo cleaning services, we ensure to keep your building clean that may reduce liability and increase your property's value.
Professional Condo Building Cleaning Services in Toronto and the GTA
Apartment buildings for tenants and owners require a very high level of cleaning that is consistent to accommodate the varying occupancy. Condo buildings and apartments have common areas such as lobbies, washrooms, kitchen, coffee station, laundry room, meeting room, etc. that are used by tenants, owners and visitors. Recreational facilities and fitness room with special equipment would require cleaning on a regular basis.
We work very closely with the property manager to review and design a suitable cleaning schedule for your property. We know that condo building cleaning services are different from other types of commercial cleaning. We are extremely flexible to adapt to your special needs because every property has a unique need, so we customize our services accordingly.
100% Guarantee Condo Building & Apartment Cleaning Services
Advanced Training: State-of-the-Art Cleaning Products and Equipment
Exemplary training is a key to Star Team Cleaning's success and the satisfaction of our customers
Detailed Cleaning Schedules: Daily, Weekly and Monthly
Regular Physical Inspections and Quality Control
Operation Manager is available by cell phone after hours and for emergencies
All our crew members trained & Background Checked
All employees wear professional Star Team Cleaning Uniforms and have ID badges
Understand and comply with WHMIS standard
You will be getting 100% Guaranteed Quality
If you feel your facilities have not been cleaned properly on any visit, Complimentary cleaning will be scheduled
Log-book for daily communications between you and your cleaning team
Apartment Building Cleaning Checklist
Our condo building & apartment cleaning services in Toronto and the GTA services are available 24/7 with daily, weekly and bi-weekly schedules. Our cleaning services includes:
Clean & maintain presentable common areas such as: lobbies, hallways, recreational and fitness rooms, laundry rooms, etc.
Floor striping & waxing, buffing and burnishing
Washroom cleaning and disinfecting
Elevator cleaning
Cleaning stairwells and handrailing
Sweeping of entrance ways, exit and walkways
Dusting corners of ceiling, ledges, baseboard and surfaces
High touch disinfecting: Cleaning all door knobs, push button and handles
Removal of garbage, waste and recycling to the designated area
Cleaning of all common area furniture, mirrors, and decors
Spot clean on all common area walls
Day porter to offer continuous maintenance and cleaning of public areas
Power washing for all your needs: building exterior, parking lot and sidewalks
And much more…
Green and Eco-Friendly Condo Building and Apartment Cleaning Cleaning Services
You can also get our green restaurant cleaning services. It means we are limiting chemical waste, using and promoting health and eco-friendly products and practices. We achieve these green cleaning by implementing some equipment and products.
Micro-Fiber technology:
Star Team Cleaning has replaced conventional cleaning cloths with an antimicrobial impregnated micro-fiber system which cleans greener and dry while removing more dust contaminants. Star Team Cleaning uses a four-color coded Microfiber system, which virtually eliminates cross-contamination. Using only the red microfiber cloths in restrooms for disinfecting reduces the spread of germs and harmful bacteria to other areas of your property.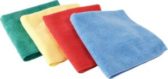 Benefits of Microfiber Technology for Your Facility:
Time-effective And Efficient
Environmentally Friendly And Reduces Chemical Usage
Preserves Surfaces
Increases Cleanliness And Hygiene
Controls Infection
Prevents Cross-contamination
Differentiate For Specific Tasks Or Job
Identify Between Departments
Backpack Vacuum Technology:
Backpack vacuums have a four-level filtration for exceptionally clean and healthy indoor air quality. These powerful vacuums:
Capture up to 99% of dust mites, pollen, viruses, bacteria and chemical residue
Leaves less dust in your environment so there is less dust to collect on desk and furniture
Help reduce the risk of respiratory infection
Create a healthier environment for your facility
HEPA filtration system captures fine particles such as dust, dust mites and allergens to improve air quality and to ensure a healthier cleaning
Experience for staff and customers
Environmentally Safe Chemicals:
Star Team Cleaning partnered with Green Solutions, a colorless, odorless and environmentally conscious line of cleaning chemicals. We are proud to be working with products that are
Safe for your employees
Highly effective cleaning solutions
Designed to be environmentally friendly
Hospital Grade Disinfectants
Hire Apartment Building Cleaning Company
In comparison to other cleaning companies, we provide custom cleaning schedules on any Condo Building and Apartment Cleaning services starting at just $175 per month.
We offer customizable cleaning packages and superior quality services as we go above and beyond industry standards. The size & complexity of your property does not matter to us – we handle the cleaning job efficiently and effectively for any commercial facility. Contact us today to get an excellent janitorial cleaning service and competitive prices for all services.
Why Choose Start Team Cleaning
Our Team is Our Gold! All our cleaning team members are screened, carefully selected, and trained in the latest cleaning and safety techniques.
You can spot our teammates by a professional uniform with a photo ID. WSIB compliant.
Locally Owned and Operated.
Efficient cleaning technology.
Thorough cleaning for a healthier work environment.
Expert in all kinds of buildings.
Remarkable attention to detail.
Thorough and reliable cleaning every visit.
If you are looking for a reputable cleaning company and a responsible team, give us a call.
Let us figure out together the best schedule and package for your business, that results in solutions that best match your needs.
jonathan S
⭐⭐⭐⭐⭐
Had Star Team Cleaning come in to do a thorough deep clean of our 24000 square foot office made up of 4 floors. We haven't had a deep clean done since our company moved into our currently location, which was over 10 years ago. Star Team got rid of the years of grime and dust build up in all the nooks and crannies. The place smells fresh and clean for the first time in years. Our staff and management were very pleased & impressed. We'll definitely hire them again for an annual deep clean.